To know how to choose a laser cutting point, you must first understand what laser cutting and laser cutting points are.
Laser cutting is to use a high power density laser beam to irradiate the material to be cut, so that the temperature of the material itself is quickly added to the vaporization temperature, and then specific holes are formed. According to the programmed settings, the laser cutting head moves with the material, and the holes form a narrow width Cut the seam to complete the cutting of the material. Laser cutting is one of the thermal cutting methods.
Laser cutting is characterized by the good quality of the cut sheet metal and high cutting efficiency. Good cutting quality: Because of the high energy density and high speed of laser cutting, laser cutting can obtain good cutting quality. The cutting surface is smooth and clean, and the surface roughness is only a few microns. Even laser cutting can be used as the last process without mechanical processing, and the parts can be used directly. After the material is cut by the laser, the properties of the material around the cutting seam are hardly affected, the workpiece deformation is small, and the cutting precision is high.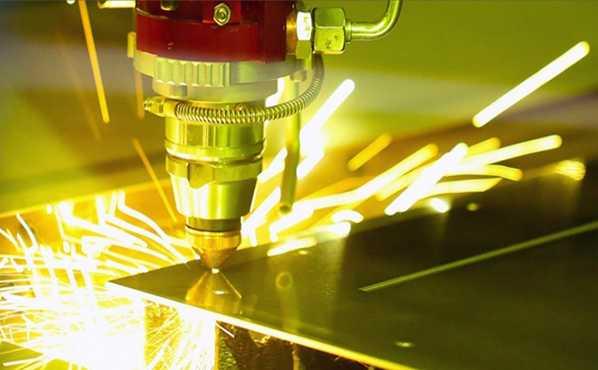 The laser cutting point is the initial point of laser cutting: when a laser cutting machine is used for sheet metal processing, the laser beam is projected on the metal sheet to form a pit, and the material forms a hole with the ejection of air flow, which is the so-called laser Cut the puncture point. The material is continuously irradiated by the laser beam to form pits. When the material absorbs heat and heats up to the boiling point, the material begins to be excited to form holes, and the laser beam starts from this hole for contour cutting.
How to choose a laser cutting point next
With the development of laser technology, the control software can automatically select the puncture point, but if there is a requirement for the roughness of the cutting fracture, the cutting point of thelaser cuttermachine needs to be selected, and the puncture point needs to be adjusted manually during programming.
激光切割机发出的激光束在穿透钢板到进入轮廓切割,其切割速度在矢量方向上90度旋转,导致2边切线重合,即与轮廓切线的夹角为0°。会让加工材料的断面留下粗糙的切割面,因此,切割点(穿刺点)的选择,关系到材料加工后端面的光洁度问题。
以上就是怎么选择激光切割点。想了解更多的钣金加工小知识就关注铂盾钣金加工。